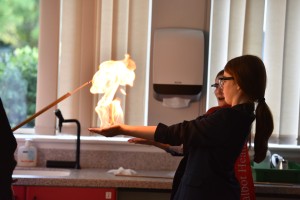 A warm welcome was offered to over 90 families who attended the Senior school open evening at Talbot Heath last week.  An exciting array of activities and presentations were organised for the many prospective families to inform and inspire; many were visiting from a variety of local schools – and one family came from as far afield as Hong Kong – booked tours to view the school and enjoy the unique woodland grounds. Explosive experiments were performed in the science centre; pianists showcased their talents in the main hall, and A-Level Theatre Studies rehearsals were in full swing in the drama studio. Cake decorating, T-shirt printing and flying drones all highlighted the exciting elements of the curriculum on offer. Visitors enjoyed the delicious smoothie bar throughout the evening, hosted by Holroyd Howe, and watched the students in full-swim as the Swim Academy showcased their talents in the recently refurbished pool.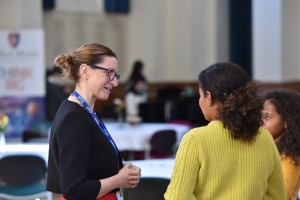 Speaking to parents at her first TH open event for the school, Tracy Harris highlighted the school's unique blend of heritage and tradition with dynamism and forward-thinking education. Also focusing on the woodland campus, Mrs Harris said: 'It is to the trees that I take inspiration for sharing our approach to education at TH, and like our inspirational trees, your daughters will grow to be unique, vibrant and magnificent young women.'
Mrs Harris thanked the staff and pupils for the effort that went in to making the Open Event such a success. Adding: 'We are extremely proud of our school and what it has to offer. Such a large-scale event takes a great amount of effort behind the scenes from our fantastic marketing, admissions and support teams, alongside the dedicated teaching staff and pupils.'
*
Information about forthcoming events and tours can be found on the school website.