Apple distinguished school and regional training centre
Talbot Heath School is pleased to announce that it has been recognised as an Apple Distinguished School for 2021 – 2024 for its commitment and innovation of technology in education. Apple Distinguished Schools are centres of innovation, leadership, and educational excellence. They use Apple technology to connect students to the world, fuel creativity, deepen collaboration, and make learning personal.
The selection of Talbot Heath as an Apple Distinguished School highlights our success in creating an innovative and compelling learning environment that engages students and provides tangible evidence of academic achievement.
Our students and teaching staff benefit tremendously from having 1:1 iPads; this really came into its own during lockdown, when we could continue teaching and learning as usual, remotely. Our students and teachers are extremely knowledgeable and enthusiastic when using their iPads alongside a variety of apps, and our unique interdisciplinary curriculum supports this well. We are already proud to be an Apple Regional Training Centre, and we regularly offer free events to those working in education in the local area. We teach the 'Everyone Can Create', and 'Everyone Can Code' curricula and we look forward to continuing working with Apple and benefiting from their expertise and incredible resources.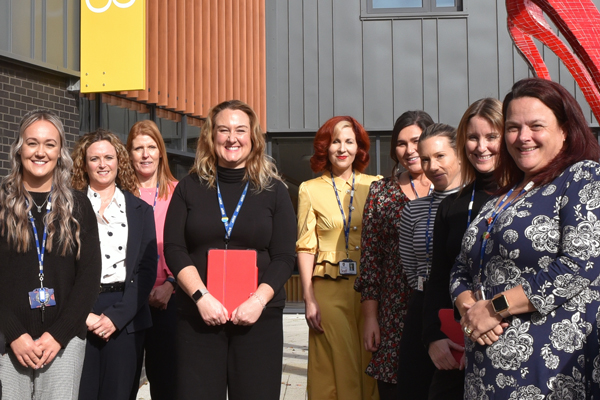 Book your free Apple training courses here
Apple Regional Training Centres deliver courses to build the skills and confidence of educators to use Apple technology inside and outside the classroom. They are a community who share best practices and inspire excellence through teaching with Apple technology.
Being selected as an Apple Regional Training Centre highlights our commitment to facilitating training for teachers to develop skills and build confidence to use Apple technology in the classroom.
Apple Regional Training Centres create a community to share best practice and support teaching staff to attain Apple Teacher status, a professional learning programme designed to support and celebrate educators.
Teachers from across the region can attend courses to build their knowledge and skills using technology in the classroom and earn badges to achieve their Apple Teacher recognition.
Across the UK and Ireland, the goals of all Apple Regional Training Centres are to:
• Facilitate training opportunities for teachers to develop skills using Apple technology in the classroom
• Promote Apple in Education and share new products and innovations with educators
• Build Apple Teacher across the region
• Share best practices, build community and inspire excellence.
To find out more, please visit the Apple Teacher website:
https://www.apple.com/uk/education/apple-teacher
We are now hosting all of our events in person. Please click here to see our Eventbrite page for more information on forthcoming events and to book tickets.
Email us if you have any questions, or would like some bespoke training at our RTC or at your school.
Follow us on Twitter for the latest Bournemouth Regional Training Centre news!
Email us if you have any questions, or would like some bespoke training from one of our Apple Teachers in your establishment.
Our Digital Leaders
Our Genius Bar is similar to the helpdesks found in Apple stores around the globe. The genius bar is a designated area in the Senior school where both pupils and staff are able to receive help and training on a range of topics related to both iPad and apps. Our specially selected Digital Leaders run the bar alongside a member of staff, and are trained on common support issues, as well as how to use the main essential educational apps. Digital Leaders can be recognised by their distinctive badges and willingness to help with technology in lessons.
New Digital Leaders are recruited each new academic year to ensure everyone has a fair chance and outstanding members are invited to continue for another year.