The focus for Talbot Heath's annual Harvest Festival collection this year was the Hope for Food Charity in Bournemouth.
With a literary theme, the service included autumnal readings from Beatrix Potter's 'The Tale of Peter Rabbit' , 'Anne of Green Gables' by Lucy Maud Montgomery, 'The Secret Garden' by Frances Hodgson Burnett and 'The Wind in the Willows' by Kenneth Grahame. Both Mrs Pugh and Mrs Harris offered harvest reflections and Revd Jonathan Burke closed the service in prayer.
Grateful thanks go to everyone for their generous donations; to Mrs Hill, for her organisation, and also to the Sixth Form prefect team and Head Girls for their help with the readings, display and packaging.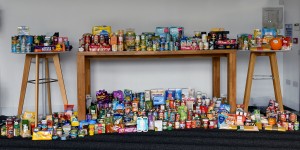 Hope for Food is a local charity based in Bournemouth set up and run entirely by Volunteers. The organisation was founded by Claire Matthews in 2012 with the aim of providing life's basic essentials on a day to day basis to people in need of help due to the prevailing economic climate. Originally, they operated a soup kitchen from the Winter Garden's car park in Bournemouth town but in 2014, after the death of 42 year old man in the doorway of Richmond Hill St Andrew's, the church offered to assist.