Congratulations to Team Talbot Heath who took part in the Bournemouth Marathon Festival weekend last week, and raised money for their partner school in Rwanda, College St Emmanuel.
Madame Klemz reports:
'I have just returned from the sea front where our lovely Sixth Formers ran for Rwanda. Not only have they raised over £600 so far, but Erin came first in the women's race and Lexie second. As for Sophia, she had a tennis tournament in Exeter, played two matches and got through to the quarter finals, she then drove back to Bournemouth and ran the five km looking fresh as a daisy! How amazing and such an achievement for all of those who took part.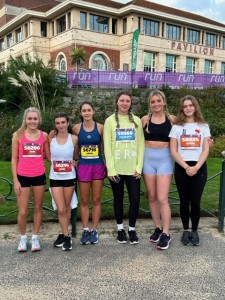 'The atmosphere was electric and I am so proud of these girls who gave up their time so selflessly to make a difference.'
A special thank you goes to Joy Moran who supports the committee with Mme Klemz every Friday lunchtime and also gave her time to support TH's wonderful girls.