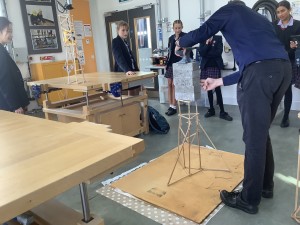 Students in STEM club recently took part in their first challenge; they were tasked with building a tower of between 700-800mm in height using no more than 12 pieces of pine strip wood and limited amounts of 3mm dowel. They were not allowed to join the wood using any glue, nails, screws, string or anything else other than the 3mm dowel (thus creating dowel joints). They worked in teams to create the towers and had to think carefully about the structure. They were taught about needing to include a wide base in their design idea and also incorporating as much triangulation as possible.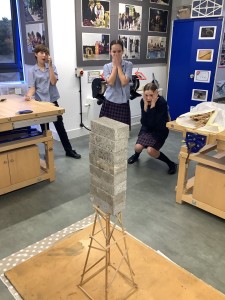 Winners in the Lower 4–Lower 5 category were Daisy G, Ruby B and Layla L whose tower withstood an exceptional 30kg before showing signs of breaking. Second place was Oonagh and Nairne T, Chloe B, Layla R and Ginevra C whose tower withstood 25kg. They narrowly beat Lila and Eliana (helped by Gloria H in the latter stages of the project) whose tower took an impressive 24kg. Ice, Kelly and Hazel achieved a very respectable 11kg.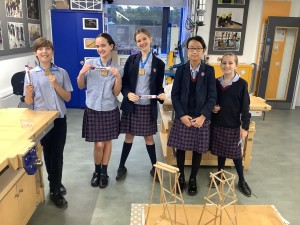 In the Upper 3 category, the winning team members were Daisy J, Seren K and Pippa E who also managed an amazing 30kg before it started to show signs of breaking. Second place was Nicole B, Jenny X and Isobel C who managed to get to 29kg which was superb. The Upper 3 pupils had a slightly easier task than the Lower 4 and above age group, in terms of how their structure was allowed to be made, but nonetheless the results were superb.
All the girls did an excellent job and the teamwork was especially impressive. Well done to all the entrants. Thanks go to Mr Morris for organising and supporting.