Written by Ian Kirtland (Head of Science Faculty – Talbot Heath School)
Location: [Court 1]
The first round of fixtures in the inter-house netball tournament kicked off with a bang this week, and it didn't disappoint. Franklin faced off against Lovelace in the opening game, with the excitement palpable; the anticipation was electric as netball enthusiasts gathered, ready to witness the drama unfold.
Franklin vs. Lovelace: A Thrilling Start
Lovelace came charging out of the gates, asserting their dominance early on, and it seemed like they were destined for a comfortable victory with goals from Georgina L and Hattie M. However, Lara N of Franklin had other plans: with nerves of steel, she brilliantly converted all her chances, keeping Franklin within touching distance at 5-5. The tension was unbearable.
Then, in the dying seconds of the game, Mr Sinclair-Smith, the unstoppable force in the Franklin centre, caught and spun with lightning speed, delivering a fast pass to Betsy. The crowd held their breath as Betsy, with precision rarely seen, sent a graceful ball gliding just inside the net. The score, 6-5, with the countdown down to one, left spectators in awe. What a game!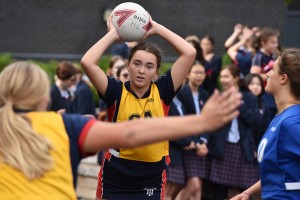 Earhart vs. Shelley: Dominance Unleashed
When Earhart took on Shelley, it was apparent from the start that Shelley was a force to be reckoned with. Their line-up was a juggernaut that left no room for doubt. Ella S, a star of Earhart, was starved of the ball, thanks to the impeccable defensive skills of Holly P, the Shelley goalkeeper. Holly's presence was akin to an impenetrable fortress, and she played a pivotal role in Shelley's commanding performance.
With a final score of 10-3, Shelley's goals from Ella R and Olivia A, Ella S and Caitlin T scoring Earhart's consolations, Shelley left an indelible mark on the tournament, and it wouldn't be surprising if they bulldozed through their remaining fixtures. However, as any sports fan knows, the beauty of sports lies in its unpredictability.
Time was meticulously kept by Shakira B, and the umpiring duties were expertly handled by Hattie M and Ella S, ensuring fair play throughout the matches.
Commentary from Xanthe G and Georgina L added to the excitement, providing insights and colourful descriptions that added to the overall experience.
The atmosphere was further enhanced by the enthusiastic cheers of the year 6 students, who chased after Betsy for her autograph following her game-changing performance. It's moments like these that make school sports truly memorable.
Last but not least, a special shout out to DJ AMO for providing the banging tunes that kept the energy levels high and the crowd pumped up.
In the world of inter-house netball, where every match is a rollercoaster of emotions and unexpected turns, the stage is set for a captivating journey ahead. Netball fans can hardly wait for the second round of fixtures, and they're ready to witness even more unforgettable moments. Bring it on!
Scores
Franklin 6-5 Lovelace
Franklin Lara N (5) Betsy V (1)
Lovelace Georgina L (3) Hattie M (2)
Earhart 3-10 Shelley
Earhart Ella S (1) Caitlin T (2)
Shelley Olivia A (6) Ella R (4)
Next fixtures, Wednesday 4 October 2023 at 1.30pm
Shelley versus Lovelace
Franklin versus Earhart