Once again, the Upper 6 students have worked extremely hard on their EPQ projects and were pleased to welcome visitors to discuss their projects with staff, fellow pupils and family members.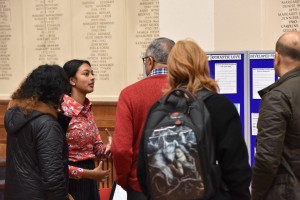 Enthusiastic, informed and articulate; the students spoke about their projects throughout the event, impressing the visitors with the depth of their knowledge and the quality of their presentation boards. The topics were, as ever, fascinating, probing and wide-ranging: from an analysis of the parallels behind the Salem Witch Trials and the Second Red Scare; the legalisation of Euthanasia in Hong Kong; the use of genetic genealogy to solve crimes in the UK, and an examination of why the associations with romantic love developed from the heart to the brain.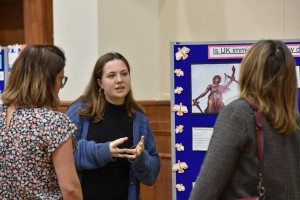 Mrs Baker who is the EPQ Lead in school, congratulated the students on their outstanding presentations and hard work, wishing them luck with the final stages of their project. She also thanked supervisors for the excellent work they have done to support students from the development of their initial idea to the final outcome.
EPQ Titles 2023
| | |
| --- | --- |
| Pippa | Is UK immigration law discriminatory towards women? |
| Mya | What are the arguments for and against the legalisation of euthanasia in Hong Kong? |
| Ariella | What is the most effective defence of judicial review as a democratically legitimate process? |
| Esther | To what extent is high dosage oral vitamin D3 supplementation a viable treatment for relapsing-remitting multiple sclerosis? |
| Bella | Assess the impacts that climate change has on the sport of skiing in the Swiss Alps. |
| Eleanor | To what extent should colour psychology influence interior design in 21st century Britain? |
| Kate | Fear, Politics and Economics: A critical analysis of the analogous factors behind the Salem Witch Trials and the Second Red Scare. |
| Betsy | To what extent does the menstrual cycle negatively affect women's performance in sport? |
| Sadhana | Why have the associations with romantic love developed from the heart to the brain? |
| Amelia | To what extent should UK law enforcement use investigative genetic genealogy to solve crimes? |