At every age, throughout their time at Talbot Heath, we expect all our girls to work hard, to achieve their full potential and to treat others with respect and courtesy at all times.
We encourage all our girls to be high performing and ambitious young women with the skills, qualifications and values needed to thrive in a fast-evolving world.
All our pupils in the pre prep and junior department are carefully monitored by all staff, in order to ensure we give our girls the best opportunities to learn and fulfil their potential.
Below you can find out Junior School Academic Subjects.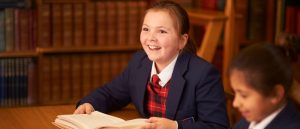 English lessons at Talbot Heath are an enjoyable place to be. We aim to ensure that English lessons lead to a lifetime of confidence, competence and enjoyment in both reading and writing for your child. Lessons are creative and engaging, providing the skills the girls will need to flourish as they go through Talbot Heath.
From Reception to Year 3 English is taught in form groups, while pupils from Years 4 to 6 are taught by specialised English teachers.
We use a varied combination of creative writing, comprehension, spelling and phonics activities, as well as grammar lessons, to build secure foundations in English.  Where possible, the English lessons are linked with the topics covered in History or Geography to further broaden the girl's knowledge and provide them with a purpose for their writing. Our English syllabus relates to the standards of the new National Curriculum, however it is not restricted to this, which allows us to be more creative in our approach to teaching English, providing the girls with a love of reading and writing.
We have two wonderful and extensive libraries, one in Pre-Prep and one in the Juniors, in which the girls enjoy weekly library lessons as well as library lunch time clubs.
At Talbot Heath we celebrate Literature through Dahlicious day, World Book day, Poetry day and many many more! Here the girls have opportunities to dress up as their favourite book characters, creatively write in the role of their character, perform poems, act out scenes from books, the list is endless! At Talbot Heath we love to challenge the girls in new and exciting ways and enter lots of writing competitions. One of our pupils recently won her height in books owing to her fantastic wizard story.
We love to celebrate pupil achievement in English and reward the girls for their creativity and independence in English.
If there's a book that you want to read, but it hasn't been written yet, then you must write it.
Toni Morrison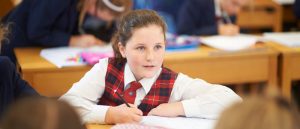 Within our Junior Department, we work hard to build upon and maintain a strong sense of enjoyment, positivity, resilience and confidence in maths which is created in our Pre-Prep and continued as our pupils move onto our Senior School at the end of Year 6. We adopt different approaches to reflect the range of ability and individual needs within each class and are ambitious for each girl; having high, yet achievable, expectations.
Our maths syllabus relates to the standards of the new National Curriculum yet is not restricted to this, particularly in the lead up to Senior School entrance examinations in Year 5 and 6. Our main focus is developing a sound mastery of the subject within the key areas of fluency, reasoning and problem-solving. Although this is largely achieved through traditional methods, at Talbot Heath we like to balance this with new and interesting ways which will enrich our pupils' learning. Every girl has their own 'My Maths' account which they can access for set homework tasks and revision purposes. All other homework tasks can be accessed via the school intranet and iPads. In addition to this, each pupil in Year 3-6 is issued with their own 'Bond' book to write in which enables a consistent reinforcement and extension for a range of different topics throughout the year. These books are utilised in different ways by the teacher such as for homework, class extension and timed assessments.
Maths Ambassadors are selected from each class in the Junior School every half term and these girls will be a good role model to their peers and work on specific tasks set by the Maths Co-ordinator which may include organising newsletters, challenges, competitions or questionnaires. We love to celebrate achievement in maths at TH through our individual target reward system and 'Honours' Book.
For the things of this world cannot be made known without a knowledge of mathematics
Roger Bacon, English Philosopher (c.1219-1292)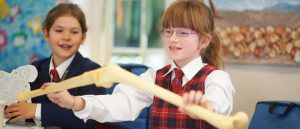 At Talbot Heath Junior School and Pre-Prep we understand that a high quality science education provides the foundations for understanding the world around us. Science changes lives and this is the best time to capture the girls' interest, to develop their excitement and send them on with a delight in, and curiosity about, natural phenomena. The specific disciplines of Biology, Chemistry and Physics are interwoven at this stage, and a topic approach that may include more than one of these disciplines is undertaken. Our extensive woodland grounds, regular visits to our Forest School from Reception upwards, and developing eco-garden, provide the ideal setting for this. We encourage environmental awareness and the study of the local wildlife, visits to local aquariums, visiting planetariums to our school, links with other schools through projects such as 'Mousetrap' and exciting Science clubs, which are also frequently run after school from Key Stage 1 onwards, leaving the girls with that feeling of wonder.
In Year 3, the girls are taught by their form teachers, whilst our Year 4-5 classes are taught by either their form teacher or the Junior School Science Co-ordinator. These lessons regularly take place in the newly refurbished Junior Science Lab where the emphasis is put on using a variety of equipment and mobile devices to undertake practical investigations. We aim to make Science 'fun' at the same time as encouraging open ended thinking and fostering a desire to learn. The girls are encouraged to recognise the power of rational explanation, to understand how Science can be used to explain what is occurring, and predict how things will behave in the world they live in.   Y6 also have the added benefit of specialist teaching in the Senior School Science Centre.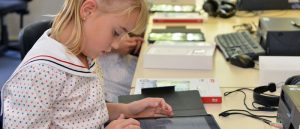 A regional training centre for "Apple" and a centre for excellence, Talbot Heath is at the forefront of e-learning.
Our pupils develop great digital proficiency, utilising the latest technologies to enhance their learning. Opportunities abound for them to flourish in this field in preparation for the futures that await them.
At Talbot Heath ICT is used across all subject areas throughout the students' junior school life, and is taught in classes for one lesson per week from years 3 to 6, helping to prepare students for the increasing uses of ICT in education, work and leisure. All students from year 4 have personal ipads to use for classwork and homework with remote access to the school's intranet, whilst year 3 have classroom access which is supervised by their teacher.
They are supported by a dedicated e-Learning Manager who is available to help with all aspects of ipad use and to deal with issues which arise. Students have an opportunity to become a Digital Genius who are appointed each year. They help and assist other students and members of staff to get the best use from their ipads. The junior school is also well equipped with desktop computers both in two dedicated computer rooms and there is a desktop and printer in all classrooms and in the library.
All of the classrooms in Years 1 and above have interactive whiteboard technology and Apple TV installed which enables staff and students to display their work to the class under teacher guidance. Apps also allow staff and students to share work and ideas. These resources add another dimension to the student's learning and we are proud of the fact that technology forms such an integral part of the Talbot Heath education.
Students learn to confidently use many educational apps available as in subject contexts and are able to produce work including animation, video and sound. Coding skills are learned and developed using Hopscotch, Hour of Code and Scratch applications. Touch typing programs are used to build up keyboard skills to improve accuracy and speed. By the end of Junior School the pupils will have developed skills in word processing, typing, desktop publishing and multimedia presentations.
Let's go invent tomorrow instead of worrying about what happened yesterday
Steve Jobs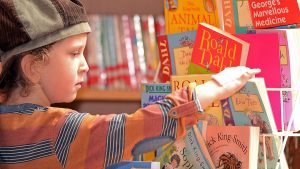 Our Junior children LOVE reading and can't wait to visit the libraries.
The Pre Prep library is a sunny room, resourced with over 2,000 stimulating non-fiction and fiction books suitable for all of our younger readers. All of the children in EYFs and Key Stage 1 visit their library every week to borrow books and enjoy stories in the company of their friends and teachers.Some of the books have a corresponding "story bag", complete with puppets or small toys to complement and enhance the children's understanding and enjoyment of that particular story. In addition to using the Pre Prep library, our year 2 pupils also visit the Junior Department library to enable them to have increased access to an even wider range of literature.
The Junior Department library, which is used by the Junior pupils for their weekly library lessons, houses nearly 7,000 books, audio stories and a computer for researching topics. It is a happy area, with chairs and bean bags for girls to continue discovering literature from different genres to inform, entrance and delight them. The library is also supervised every lunch time for girls who wish to change their books even more frequently.
Caroline Lawrence (Roman Mysteries), John Dougherty (The Niteracy Hour and Zeus on the Loose) and Ali Sparkes (Unleashed and the Switch series) have been our most recent authors to visit the Junior School to inspire the girls their love and enjoyment of literature.