The History department organised a visit to Hampton Court Palace for the Lower 4 year group, as part of the pupils' study of Tudor and Stuart Britain. They particularly enjoyed seeing Henry VIII's state apartments and kitchens and the Chapel Royal was also fascinating to them and closely and linked with their studies; in 1537 Henry's son, Prince Edward was christened there, and in 1541 Henry learnt of the infidelity of his wife Catherine Howard whilst at Chapel.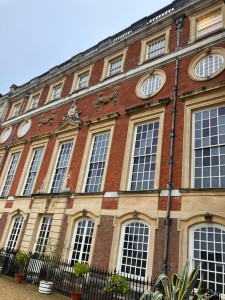 Aiming to give the girls an insight into Tudor buildings and court life, the TH ambassadors had an educational workshop about the crisis in 1562 when Elizabeth I caught smallpox. This was of great value for their studies on the Tudors. They also visited the maze, privy gardens and the real tennis court.
It was a very successful trip and many thanks go to the staff who accompanied the visit, and especially to Miss Saunders for the organisation.