'In Flanders fields the poppies blow
Between the crosses, row on row,
That mark our place; and in the sky
The larks, still bravely singing, fly
Scarce heard amid the guns below.'
The Talbot Heath community gathered last week to mark the 105th Armistice Day, since the end of the First World War. Head Girl, Esther, alongside Upper 6 historians, Ariella, Pippa and Kate, presented a variety of moving readings in the Senior assembly which included 'In Flanders Fields' by Lieutenant Colonel John McCrae, and Wilfred Owen's 'Anthem for Doomed Youth.'
Images of some of the students' ancestors from WWI were hanging the main hall to serve as a reminder to pupils that those who fought in the past were their family members: 'not faceless people from some distant war, or nameless figures in faded photographs.' Pupils were invited to consider how these soldiers are: 'so close to us that we can touch our past; we can make a real connection to our ancestors and the sacrifices they made to safeguard our future.'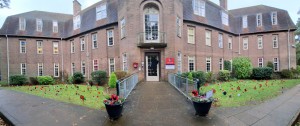 The Juniors also held a special service to mark Remembrance Day which included a two minute silence. Staff and pupils were surrounded by hundreds of handmade poppies made by the junior pupils and displayed on the greens outside St Mary's Boarding House.
Mrs Harris thanked both Miss Saunders and Miss White for their organisation and input, creating 'a very poignant Remembrance Day' for the school community.