Art, graphics, textiles and photography
The Creative Art department is a dynamic, innovative group of subjects in which we aim to create a positive and stimulating learning environment for every student.
All lessons are taught by specialist teachers with a wide skill base and extensive teaching experience.
If you would like to find out more about music lessons please see music here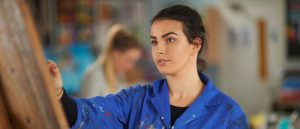 In Art we aim to inspire students to become innovative learners who create work they are proud of and exceed their and our expectations. Our Art lessons are taught inpurpose built large, bright and fully equipped Art studios, including a kiln, darkroom, photography studio and graphic suite. Full Adobe Suite is available on all our computers, iPads and laptops.
We will ensure your child will build not only on an array of practical skills with a wide variety of materials but also develop their understanding of cultures, art movements both past and present, whilst promoting the status of art in society. Alongside this, we enable students to develop a range of desirable personal qualities such as perseverance, initiative and independence.
As a department, we stimulate students' curiosity and enjoyment of art, encouraging open and enquiring minds that are aware of contemporary, cultural and historical elements; this enables the development of concepts and informed decisions, building on work through project based outcomes.
The Art department is a nurturing environment, which enables your daughters' confidence to thrive. We offer a wide variety of extra-curricular events, including trips to exhibitions, clubs, day courses and residential trips to various destinations globally.
Art is taught to all students in Upper 3 and Lower 4. In Upper 4, students have to opt between two of the four subjects – Art, Drama, Music and Food, to enable them to build a firm basis prior to choosing GCSE options. At GCSE and A Level we offer qualifications in Fine Art, Photography and Textiles.
Within the Senior School the Art department covers many topic areas including the fundamentals of drawing, architecture, cultural units, photography, clay, 3D, procreate and photoshop skills. All units of work link to relevant artists or designers.
Everything you can imagine is real
Pablo Picasso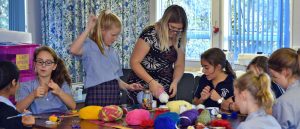 This is a really exciting time for Textiles. The textiles industry is evolving into an interdisciplinary area where the lines between the disciplines of Science, Engineering and Textiles are merging. Textiles Engineers work alongside Electronic Engineers and Textile Technologists work alongside Chemists and Physicists developing new technology. The fashion and Textile industry is thriving in the UK and is worth approximately £20 billion to the UK economy; it employs around half a million people.
At Talbot Heath Textiles is taught in a purpose-built classroom in the STEAM Hub. The Textiles department is a vibrant and inspiring place to learn, with an atmosphere of busy and purposeful activities. The textile room is well equipped and superbly resourced. Students have access to a wide range of materials and equipment.
Textiles is a popular subject at Talbot Heath and is taught, as a design discipline, to all girls in Year 6, U3 and L4. Students are encouraged to develop their knowledge, originality and creativity by completing a number of practical projects. They develop and practise lifelong skills such as learning to use a sewing machine as well as to hand stitch. Working from context, students are encouraged to approach tasks with a degree of risk-taking and to persevere to find a workable solution to a given design brief, developing strong analytical problem-solving skills. Textiles will offer students the opportunity to explore new and traditional materials in exciting ways combining traditional skills and modern techniques. There is also opportunity for other, non timetabled, year groups to take part in an extracurricular Textiles and Fashion club. The club regularly supports other whole school projects including making banners and displays as well as costumes for school productions.
In Textiles students learn to plan, design and make, bringing their own ideas to realisation. Working with textiles develops 3D thinking, creativity, problem solving, planning, and evaluation skills. Students work on projects collaboratively building communication and teamwork as well as developing their own ideas individually. They learn the importance of colour theory and traditional skills such as applique, quilting and pattern making. They learn to colour and pattern fabric through the processes of tie-dye, block and stencil printing and batik. The students are given the opportunity to use a wide range of tools, equipment and computer software.
Safety is naturally top priority and high standards of behaviour are expected. Textiles in U3 and L4 runs concurrently with Food and Nutrition, and in Year 6 on rotation with Food and Drama which ensures the student to teacher ratio remains low meaning each student can receive the help and guidance to develop their ideas fully.
Textiles affect every part of our lives.